Structure: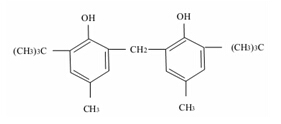 Physical properties: Antioxidant 2246 is a white or milky white crystalline powder having a melting point of 120-130 °C. Density 1.04-1.09. Soluble in organic solvents such as ethanol, acetone, benzene, petroleum ether, insoluble in water. Slightly phenolic. This product is non-toxic and has good storage security. Long-term placement is reddish, but does not affect its anti-oxidation and anti-aging properties in oil, rubber and plastics.
Technical requirements:
| | |
| --- | --- |
| Appearance | Pure white crystalline powder |
| Melting point | ≥128 |
| heat reduction | ≤0.5 |
| Burning reduction | ≤0.1 |
| Chroma | ≤100 |
Uses: General-purpose phenolic anti-aging agent, widely used in natural rubber, synthetic rubber, latex, other synthetic materials and petroleum products as antioxidants, the general dosage is 0.1%-1.5%. This product is a widely used phenolic antioxidant, suitable for a variety of plastics, ABS, AS, natural rubber. Antioxidant 2246 has high heat stability, good anti-oxidation effect, no pollution, no coloration, no blooming, good oil solubility, no loss of volatilization, no effect on vulcanization and plasticity of rubber. It has no effect on the stability of latex and its low dosage.
Packing and storage: It is packed in paper-plastic composite bags lined with plastic bags. The net weight of each bag is 25kg. It can also be designed according to customer requirements. Store in a cool, dry environment as normal chemicals. The recommended storage time is 12 months.